CA Foundation 2021- Face to Face classes & online Starting Soon. For Admission Call: 9847814000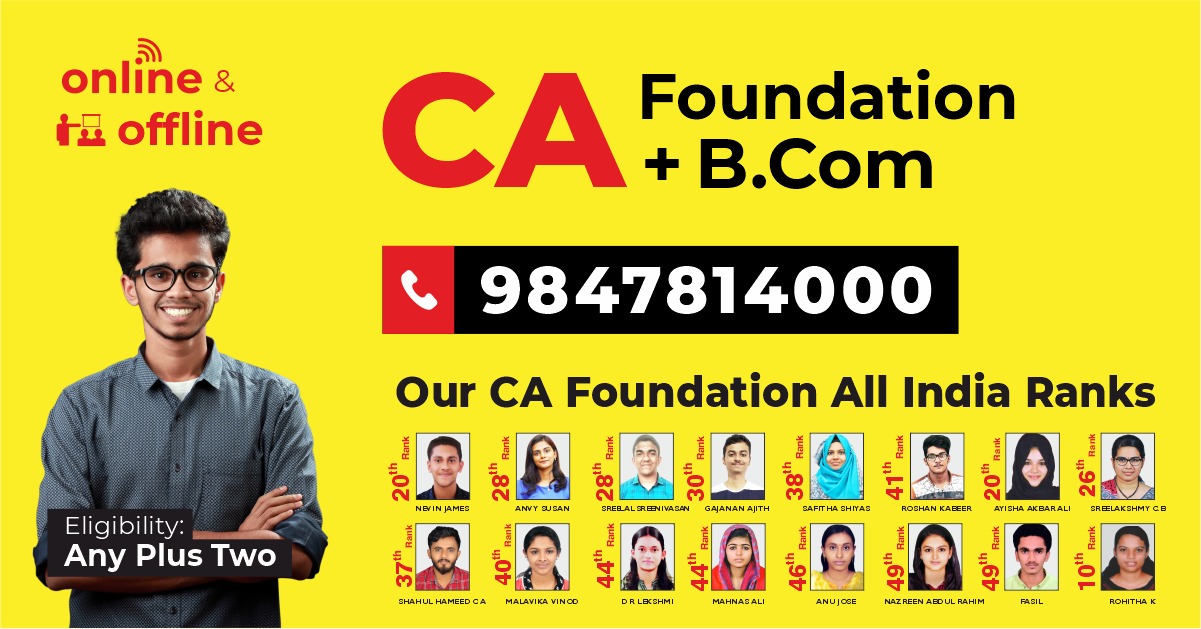 Foundation course examination (earlier known as CPT exam) is the entry level exam for the Chartered Accountancy course conducted by ICAI. Students who have to register for CA course and are required to complete a 6 month study period. This duration is from the state of registration in order to be eligible to appear for the exam. Any graduate or post graduate is exempted from the CA foundation exam. Commerce graduates with 55% and other graduates with 60% marks are directly eligible for the CA Intermediate course. The CA foundation exam consists of 4 papers:
Paper 1 - Principles and Practice of Accounting
Paper 2 - Business Laws and Business Correspondence and Reporting
Paper 3 - Business Mathematics and Logical Reasoning and Statistics
Paper 4 - Business Economics and Business and Commercial Knowledge
Quick information of CA Foundation regular batch

Call: 9847814000

1
Next class start date:
April-2021
2
Entry requirements

Plus two or equivalent

4
Admission fee
₹5000
5
Discounts fee
NA

For Enquiry : Please fill the enquiry form on the top of this screen( in mobile) and Rright side(in Desktop and Laptop).Our career specialist will contact you soon. or you can

Call: 9847814000
Bring back the familiarity of your classes while following Covid-19 Protocols. Be present in classes with your faculty and friends.
---