Featured
CA, ACCA, CMA USA, CMA IND and CS Courses.
Apply Now
Overcoming the habit of keeping everything till the last minute
Everyone would be very familiar with the feeling of pushing the deadline, or binge-watching on a show and thinking you will start studying after just this episode. And once the deadline approaches you would be wondering why you didn't start sooner.
Procrastination is a trap that many fall prey to. 95% of the people end up procrastinating at some point in time.
Most people may associate procrastination with laziness. Procrastination, unlike laziness, is an active choice, where you choose to do a certain activity instead of the task ahead of you. With laziness, it's the unwillingness to act at all.
Here are some easy steps you can take which will turn you from a couch potato to a superstar.
Identify why - The number one reason most people procrastinate is cause they have low priority tasks set for the day. Most people procrastinate due to the following reasons

They have low priority tasks set for the day

They leave an item on their TO-DO list for a long period of time

Start a high priority task and leave to get a glass of water

Wait for the right time or for the right mood
Adopt Anti - Procrastination Methods

MoSCoW - The MoSCoW method helps people to prioritize their tasks in a much better manner, thus making sure that they don't keep vital tasks until the end.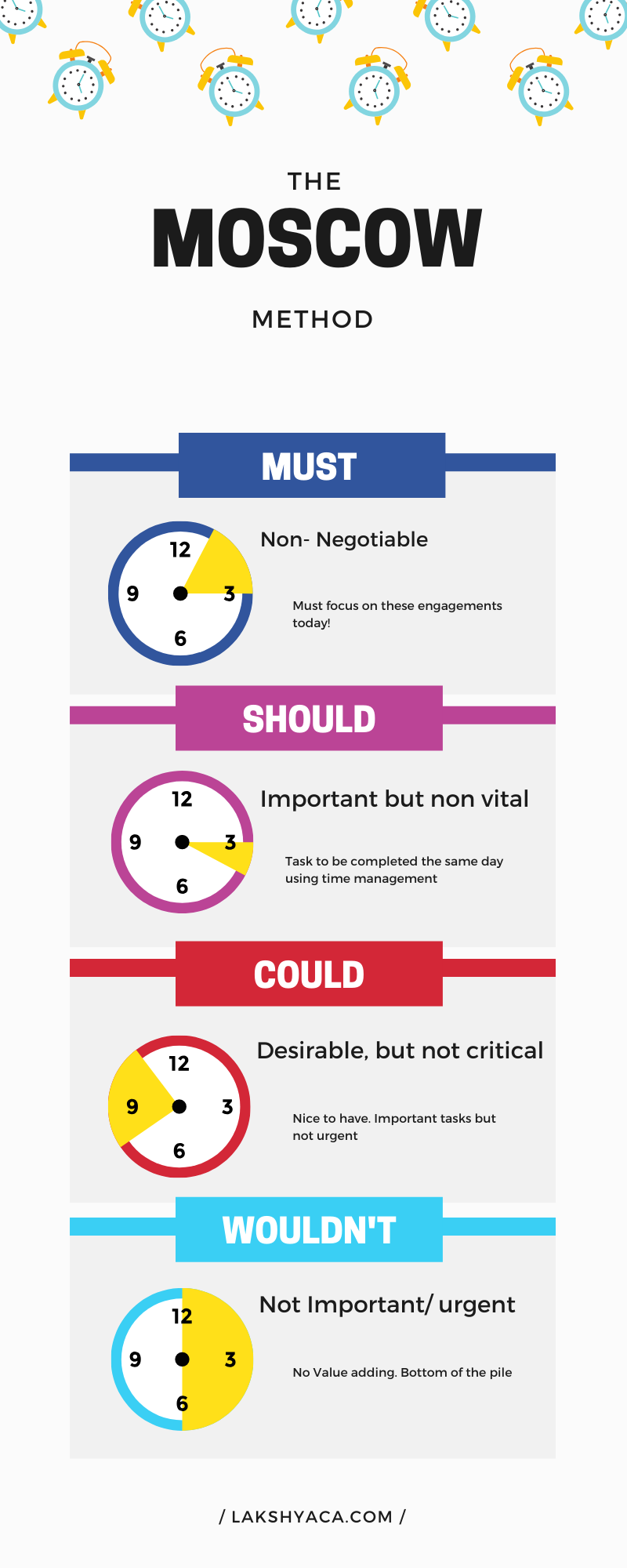 You could also follow the stoplight method -
Pomodoro method - The Pomodoro method also helps you to be on track with the topic you have to study without wasting much time or getting distracted.
Minimise social media - As much as a smartphone does allow you to make your day go smoother it also is a huge time snatcher. So before you get to work keep your phone far away.

'Eat an elephant beetle' at the beginning of the day - According to the article "6 p's to overcome procrastination', get those tasks that are least pleasant done first. This will open up the rest of the day so that you can work on the things you find enjoyable.
How to get yourself organised - Some time you get distracted as you don't have a plan, the following steps will help you to on track.

Make a to-do list - This will help you make sure that you don't forget the urgent tasks.

Prioritise your work using the above-mentioned methods

Manage your hardest tasks at peak time - You must be aware of when you function the best, tackle them while you are feeling your best so that you can complete them quicker.

Use task and time management apps - There are various productivity apps available in the market. Put the phone to good use!
You can easily get over procrastination once you realise that you are doing it, help yourself identify the reasons for this behaviour and then you can quickly overcome this. So happy studying!